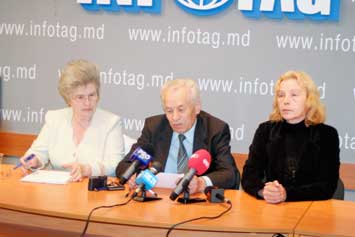 INFOTAG article: Moldovan NGOs drafted national ageing strategy
Chișinău, 17 September 2007 (Infotag). Moldovan social-profile organizations have prepared a draft National Anti-Ageing Strategy.
The document is a part of the project named "Civil Society Consolidation to Reduce Poverty and Social Isolation of the Elderly in Moldova" that was realized here by the Second Wind non-governmental organization of Balti city with the European Commission's assistance.
Second Wind director Irina Baikalova told a news conference in Infotag today that yet in 2002 the United Nations Assembly adopted the Madrid Plan of ageing prevention, which was signed by many countries of the world, including Moldova.
"Until now, however, the Moldovan populace knows very little about the problem of the human race's ageing. The one-year-long project was launched here in 2006 with an initial budget of €71 thousand. Later, however, the budget was cut down to slightly over €50 thousand, of which €40K was provided by the European Commission", Baikalova said.
In the Project frame, a Resource Center has been established for the old people for their better re-integration into the civil society, profiled seminars were organized in various localities, and groups of volunteers set up for taking care of the elderly.
The Project has by now come to have active partners – 12 social organizations from Orhei, Edinet, Chisinau, Basarabeasca, Cahul, Cimislia, Comrat, Ialoveni, Hincesti, Leova, each working in their localities.
The draft Strategy has already been submitted to the Ministry of Social Protection, Child and Family for consideration.
Valeriu Cernei, Chairman of the Bunatate all-republican association of the elderly, said the social organizations have sent an open letter to the Government requesting it to reconsider the current state policy with regard to the old people.
Currently, the average pension size in Moldova is 552 lei (US$46.9) a month, which barely covers a half of the subsistence level. The mainland Moldova is home to over 600 thousand pensioners.